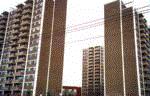 The West Lodge Tenants Association, is a Parkdale Toronto tenants association representing the residents of 103 and 105 West Lodge Avenue, in an area known as Parkdale.
This is a Toronto tenant information and a consumer watchdog website both for our tenants and any others who might have an interest in these issues and our continuing battles with The Wynn Group, formerly known as Wynn Family Properties.
Our Toronto tenants association has existed since 1972. We also and had a very successful 1990 rent strike with the assistance of Parkdale Community Legal Services.
The family business of being landlords was founded upon the Phil Wynn's stores, National Furniture. The present property management companies under names like: the Wynn Group, Wynn Family Properties, B'nai Fishel (Children of Phil), Pajelle Investments, etc., are under the ownership of his sons: Jeffrey, Paul and Leslie. We have heard many complaints about the furniture business, including complaints of taking deposits and then never delivering the furniture, as had been on CityTV Silverman Helps, consumer segment. There was a site that used to exist that covered one complaint, and we have compiled this page on: National Furniture 1650 Dundas Street East, Mississauga, from what we had saved from the many pages on their site that outline this criticism of their treatment of customers.
This site was originally launched on May 7, 2003.
This site was moved from http://ca.geocities.com/wltenants due to Geocities ending their service on October 26, 2009.
<! -comment Whatever John Wants here! -->